The New
Crazy Granny

NFT Collection!
The Crazy Granny NFT Collection has its home on the Elrond blockchain and consists of 10.000 UNIQUE NFTS.
With its own set of features, each NFT is available for staking and provides weekly benefits.
By being a part of this project YOU, as an owner, will BENEFIT from the revenues your NFTS generate.
It starts with Jolie, a little dog, and his crazy, loving and generous granny.
Granny loves Jolie very much and also her family and friends. Because of this, she never forgets to send them a little gift every week.
So YOU, as Granny's friend, will also be treated well and receive gifts every week, because, you know, Granny may be crazy but she loves her friends and takes care of them.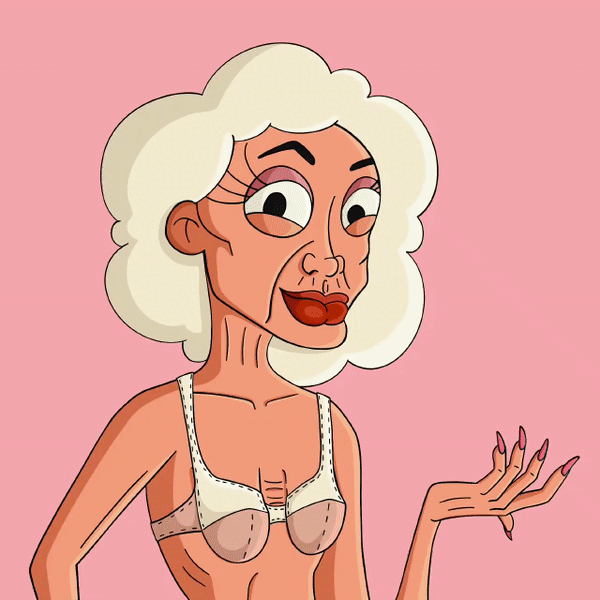 Who are we?
We're four young crypto and tech lovers
.
As a Crazy Granny's community member YOU can benefit from our experience with the Elrond platform. We'll get you up to speed when it comes to staking, farming, minting, and much more.
The Elrond project is a highly scalable, fast and secure blockchain platform for distributed apps, enterprise use cases and the new internet economy. Its fast-growing ecosystem has just started.
1. Growing our family
We engage and create on social networks and work on the community's website.

We establish a community and begin giving away prizes on Twitter and Facebook.

NFTs will be listed on

trust.market

.
2. Prizes
A follower will WIN an Iphone 13 mini when we reach 5000 followers on Twitter.

By the time all the NFTS are mined, the money will be put into the Maiar Dex farm and all the rewards will be distributed among the members. Basically, Crazy Granny will bring YOU benefits starting the first week.

We will be holding weekly giveaways for award-winning members in Egld, Lkmex, and NFTs.
3. Spreding our magic
Giveaway: June 1: an Iphone 13 mini (Children's Day).

After the NFTs are sold out, the funds will be divided into three categories: 10% for marketing and future project development, 20% for the team, and 70% will be invested in the Maiar Dex farm, and the rewards will be distributed to members every Friday.

Once the mining phase is over, the NFT will be available on the marketplace. Each sale has a royalty fee of 10%, of which 7% will be distributed to members and 3% will be for the team.

NFTs will be available for staking on our site.
4. Staking
Staking allows you to earn passive income in crypto.

By staking your NFTs you lock your assets on our website and to receive rewards without having to sell your collection. You basically get to have your cookie and eat it too. 

It's like DeFi yield farming, you lend or stake cryptocurrencies to liquidity providers to earn rewards in the form of transaction fees or interest. It's similar to earning interest from a bank account, but without a middleman facilitating transactions and taking a cut.

Crazy Granny NFT is not just a jpeg, it's a private club. Its success depends on its growing community. NFTs should bring money to every member of the community, where we earn and grow together. That's why we have a system of motivation and rewards for our holders.
5. Our future
Giveaway: A MacBook Pro exclusively for members.

A new Jolie collection will follow with similar benefits, and all Crazy Granny members will be surprised by the new collection.

Similarly to how Grandma has always been by Jolie's side, we will stand by our community, and we will not stop here.

TBA